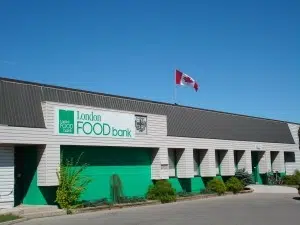 By Gerardo Aldana
The London Food Bank, located near Commissioners Road, is a place that helps Londoners who are struggling economically.  Opened in 1987, it has since offered basic food necessities to people who need it for free.  They have several events destined to help and unify the community, like Tampon Tuesdays, when they collect feminine hygiene products. and it also gives women a chance to interact.
Unlike government programs, where you need to prove you need the help through an income test, or go through some application process, the only thing you need to get the help is your ID.
"We assume that if you arrive here, there is a need, and we'll do what we can to provide food to you,"  Joshua Parker, who is in charge of volunteers, says. He said that the only thing you need to get the food is your ID.
There are different ways you can donate to the food bank. "Most grocery stores accept donations on our behalf, and you can also donate all over the fire halls," said Parker, who also said that the London community  was incredibly generous, as shown in their last food drive that started on March 27th and finished on April 6th .  Peanut butter, pasta,  baby food and canned goods like fruits, vegetables and meat are some of the things they need the most.