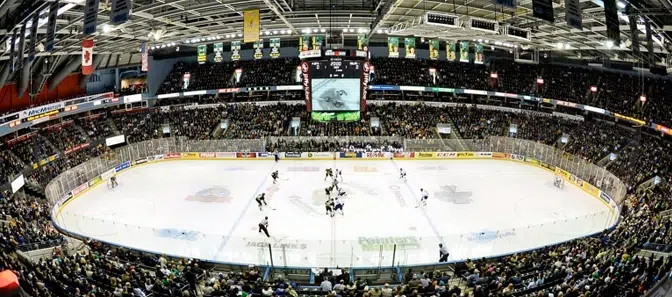 The Knights are back in the playoffs and this could be there year to get back to the Memorial Cup in Red Deer.
Coming into the playoffs, London ranked first in offense and defense. Goaltender Tyler Parsons ranked first in GAA and save %. The Knights have 3 of the top 5 scorers in the OHL in Christian Dvorak, Mitch Marner and Matthew Tkachuk, All three play on what's the most prolific line in recent memory combing for 338 points this year, and absolutely tearing up the OHL. On the blueline the Knights feature Olli Juolevi, the number 1 defenceman heading into this years NHL draft. So with all this talent and firepower, it's no surprise that London is the 3rd ranked team in all of Canada, but as the case with so many good junior teams, all good things will pass and the Knights are no exception to this rule. Dvorak is guaranteed not to be back. The 20-year-old centre will either make the Arizona Coyotes next year, or play for their AHL affiliate in Springfield. Leafs prospect Mitch Marner is no guarantee to make Toronto next season, but there's no doubt that's where he, and many Leafs fans, want to see him next fall. Matthew Tkachuk is ranked as the top North American forward heading into this years draft and there have definitely been cases of junior players making the jump straight to the pros after being drafted. Knights fans don't have to go back to far to remember when the Penguins decided to keep puck-moving defenceman Olli Maata right after his draft year. So with the potential of losing all three of their top scorers, and their best defenceman in Juolevi, this is definitely the year the Knights want to go for it all. After their victory on Sunday afternoon against the Owen Sound Attack, the Knights are now looking forward to their second round matchup against the Kitchener Rangers beginning this Friday night in London and fans are certainly excited.
"I just got my tickets for tonight's game and I'm really excited to see the Knights play and hopefully they kick some ass," said Joel, a long time Knights fan.
"My favourite part about the game has to be the atmosphere. Get the crowd going everyone getting into it," said Andrew.
Other fans enjoy the games for different reason, life season-ticket holder Jeff.
"The fact that they're all having to work for their job is what I realty enjoy."
Whether you like the atmosphere, the food, the skill or all of the above it seems Knights fans sure are excited to see their team take on the Kitchener Rangers.
But everyone should mark their calendars when the Knights inevitably play arguably the only team in their way, Dylan Strome and the Erie Otters.
Go Knights Go!