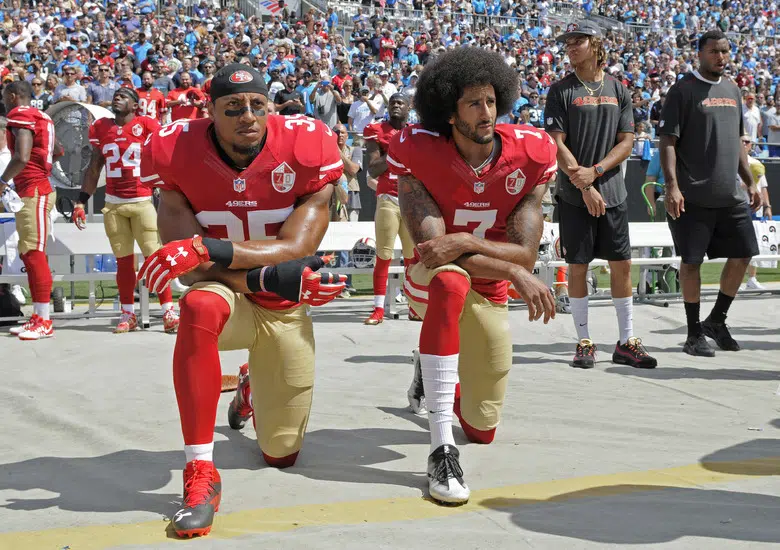 In the midst of Donald Trump reaffirming his stance against the #TakeTheKnee movement in the NFL, black collegiate athletes from Western and Fanshawe are speaking out.
Donald Trump claims all NFL players who do not stand for the National Anthem are being disrespectful. On the other side, athletes say they kneel in order to protest racial injustice and police brutality in America. Many of them, including Colin Kaepernick, former starting quarterback for the San Francisco 49'ers and the first person to protest in this way, claim they do not wish to stand for the anthem because they do not believe that everyone in the country is truly free; especially minorities. NFL commissioner Roger Goodell wants to move past the issue as he believes the controversy is disenfranchising fans, while Trump claims the issue is directly affecting game attendance.
Marlon Brown, former Western Mustang football player, says the issue is complicated and that by trying to move past the issue, he believes that giving the players the platform to speak pout about the social issues they believe in is the best way to promote progress and by forcing them to stand for the anthem, the President would be silencing their voice.
Timmy Tea, a Fanshawe student and former athlete shares his concern, citing the case of Colin Kaepernick (seen in the picture above, credit to Hercampus.com). Tea worries that Colin Kaepernick's stance on social issues is the reason he is out of work in the NFL, and he worries that this trend could potentially silence future athletes from speaking out.
It is clear that the situation is complicated both from a social justice standpoint and an economic standpoint for the NFL. Many people wonder if common ground will be found. Brown believes that there is no potential for a middle ground resolution in this case. Either the NFL forces athletes to stand for the anthem, or continues to allow them to engage in political movements.
See what one student had to say on the movement, the NFL and President Donald Trump's Involvement