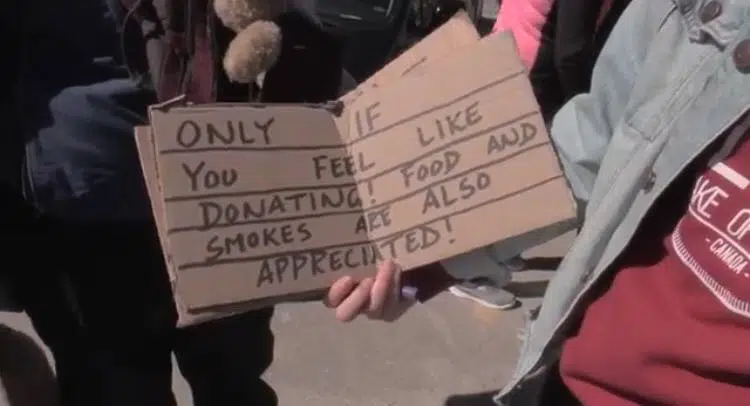 The homeless community in London is continuing to grow.  Now upwards of 400 people are battling for their lives on the streets every day.  519 Pursuit is an organization that helps the homeless in London extensively.
"I have a few friends on the streets that I see on a day-to-day.  So, I'll just go stop in on my lunch, give them the lunch that I made for them, see how they're doing, if they need anything," says Amber Irvine, co-founder of 519 Pursuit.
Making lunches is not the only thing this organization does though.  519 Pursuit brings in the homeless and lets them help out with the organization.  Paul Heldson was once out on the streets, fighting to survive just like the rest.  He now works with 519 Pursuit and reflects on how hard it is to see where he used to be.
"It can be heart breaking on a day-to-day basis.  Having been there myself and seeing both sides of the world, you can see the troubles in their faces, without them having to say anything."
Goals of 519 
Helping the homeless is something that 519 Pursuit will not stop doing until all homeless people are off of the streets in London for good.  The goals are endless to help a growing homeless community.  It is something this organization lives for.
"They are an important part of society.   For us to give them kinda the hope to continue on, to find their strength, to find their reason and why they should be a part of society is a main goal that we're going to hold," says Allie DeBlaire, founder of 519 Pursuit.
Donations such as food, water bottles, and buckets of clothing are handed out in parking lots downtown constantly.
519 Pursuit encourages the City of London to donate any food or clothing by direct messaging them on Instagram @519pursuit, on Facebook at My Pursuit, or on Twitter @519pursuit.  Every little bit helps to stop the negative stigma and growing homeless community in London.