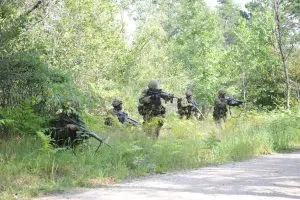 Around 500 soldiers made their way south of the border for 1 week, to participate in one of the largest reserve exercises of the year called Arrowhead shield. From August 24 to September 2, soldiers from all over South Western Ontario participated in a weeks worth of defensive training down in Michigan. The purpose of this exercise is to prepare soldiers for what is to come on the battlefield. Lieutenant Colonel Mark Poland speaks about the significance of Arrowhead Shield.
"Arrowhead Shield is our annual collective training exercise where 31 brigade groups where all of the various units come together and participate in training."
Soldiers complete a number of tasks that work hand in hand to accomplish larger objectives. The goal is to provide soldiers with combined arm training which will help improve their skills for the military. Soldiers who participated in Arrowhead Shield are reservists, volunteer war fighters that give up their time to provide their service to Canada. Many are brand new to the force and their experience has been significantly different than anything they have ever done before. Alex Slack is new to the force, he explains what his experience was like while he was away in Michigan.
"The exercise we did at the end of August was a brigade level X. So during the exercise we would work with our own unit and it's good to see all the other trades together. We also work with other units from the same trade."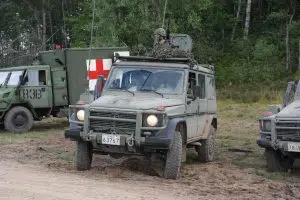 Not only does this training provide soldiers with knowledge and skills, but it brings them all together in the context of one training environment. Soldiers have demonstrated the use of tactics, techniques and procedures through tasks that include weapons familiarization, operating communications and navigation equipment. Arrowhead Shield is an exercise that will help maintain an operational ready force. With training like that, soldiers will always fight for our red and white.