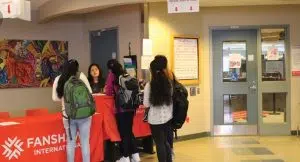 It's that time of year again where students buy their new books, pack up their bags, and head to college for another year of learning and meeting new people. But for some, the experience can be quite different. International students travel from areas all around the world to get the education they desire. Although it is an exciting new adventure, there can be many struggles that come along with moving to a different country for schooling. Arrina Zainulina, an international student from Russia, explains the struggles of moving to a foreign land.
" I was terrified, I didn't know what to expect. I think the most scary thing for me is that I will not understand what the teachers are saying because I am an international student."
Along with trying to familiarize a completely unfamiliar setting, foreign students also have to keep up to date with their language skills and the new curriculum which is introduced to them rather quickly. The cost of living can also burn quite a hole in their wallets. These students are responsible for making sure they have enough money not only for tuition and rent, but food, textbooks as well as casual spending money. Arrina explains how having no family ties here in Canada impacts her while she's away at school.
" I had a culture shock and things such as how to make friends and how to manage my budget created some difficulties for me."
Fortunately, colleges and universities are prepared to help students out with any of their concerns when it comes to financial or academic problems. Sue McKittrick is a communications and recruitment coordinator at Fanshawe. Her role is to develop communications to help increase international student enrolment. Sue explains how the school strives to help make the best experience for all of the international students.
" In our offices we do something called peer to peer. We try to set them up with some Canadians and we do conversation circles to help them learn more about us and our culture."
Students choose Fanshawe for many reasons including their commitment to student satisfaction. Their main goal is to prepare students for incredible career success.