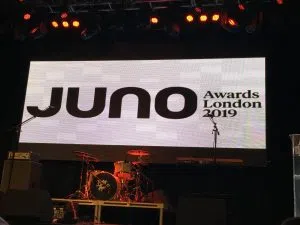 2019 JUNO Host Chair, Chris Campbell, kicked off The Canadian Club of London's 2018/2019 season of guest speakers by outlining key characteristics of what Londoners can expect when the JUNOs hit town in March.
Campbell notes that the journey to win the bid to host the awards was a strenuous one that started over two years ago with the Canadian Country Music awards. Even with the success of Country Music Week, it was still a difficult bid to win as,
"I looked at larger cities who really [were] putting most of the emphasis on the 'celebrate.' Let's look at the emphasis on the 'educate' and try to do something that's over the top. Because we clearly don't have the gorgeous mountains of B.C., or the East Coast, or the physical land structures, and we don't have all the hotels, but what we do have is a community."
Campbell emphasized the focus on giving back to not only the London community, but to the entire nation through music. The awards will include a Women in Music Series that will ensure equal recognition for women's efforts in the industry. Event Manager, Savanah Sewell, is directing the series and has a clear vision of what that will look like.
"One of the things we're going to be working on is highlighting what it's like to be a woman in the music industry. It's different than being a man. And it's not just about getting up and playing the guitar, there are also women who build stages, women in bands, [women] who are publicists."
As nominations, hosts, and performers are announced, Campbell highlights that London's focus is on the idea to "make lives better through music across Canada."
The JUNO awards are set to take place from March 11-17, 2019.