The Original Kids Theatre rehearsing for the Disney Newsies show… more shows until Sunday.. tonight's show begins soon! #ldnont #theatre pic.twitter.com/QLmJ5SkY8q

— XFM News (@XFMNews) January 9, 2019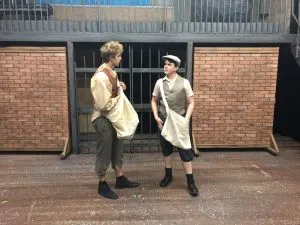 The Original Kids Theatre put on their first of many shows last night, with sold out seating. A cast of teens put on the famous Disney Newsies! musical, a story about standing up for what's right, and sticking next to the smaller guy in times of need.
But, it was clear that these kids learned much more than just the songs and the steps to the dances during a play like this one, with such an important message. Caedwyn Boyd is one of the actresses in the musical, with four very different roles, and she has walked away from this play with a different outlook.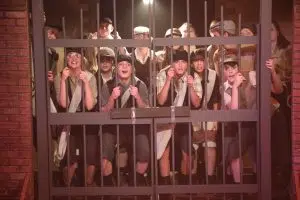 "You can apply the general motivation of the play to today," Boyd says. "It's the little guy, and fighting for power in an industry dominated world, and fighting to have their voice heard. The big musical numbers where we're all together, with our fists in the air, it's just so much passion for a cause, it's been really cool."
Boyd wasn't the only one in the play that felt the deeper message in this musical. Jackson Gilson has the opportunity of playing both a bad guy, and a good guy throughout this musical. And from playing both roles has really understood what this play is truly about.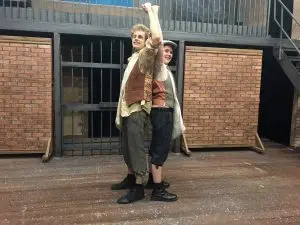 "I think it's so important to do a play like this one because other people need to see that it's okay to tell others what you believe in and that you don't have to go along with whatever is happening. You have the power to make a change and so with every small voice that joins a cause, that's another step in the right direction."
Not only has this play opened the eyes of the teens playing these important roles throughout the musical about standing together, it's also brought light to their eyes about how important theatre and the arts is to them, especially at this time in their lives.
"The ability to put themselves outside of their comfort zones and to do something that makes them feel vulnerable is so important," says Andrew Rethazi, the director and vocal director at Original Kids.
After being a part of theatre and the arts, these kids have to open up and be brave to step out of their comfort zones like Rethazi said.
"It's made me a lot more confident presenting myself to people," Boyd says, "it's made me confident in my communication skills. It's made me a more mature person."
With shows continuing until Sunday evening, the excitement and the thrill these teens feel while performing will only get stronger every night they perform.